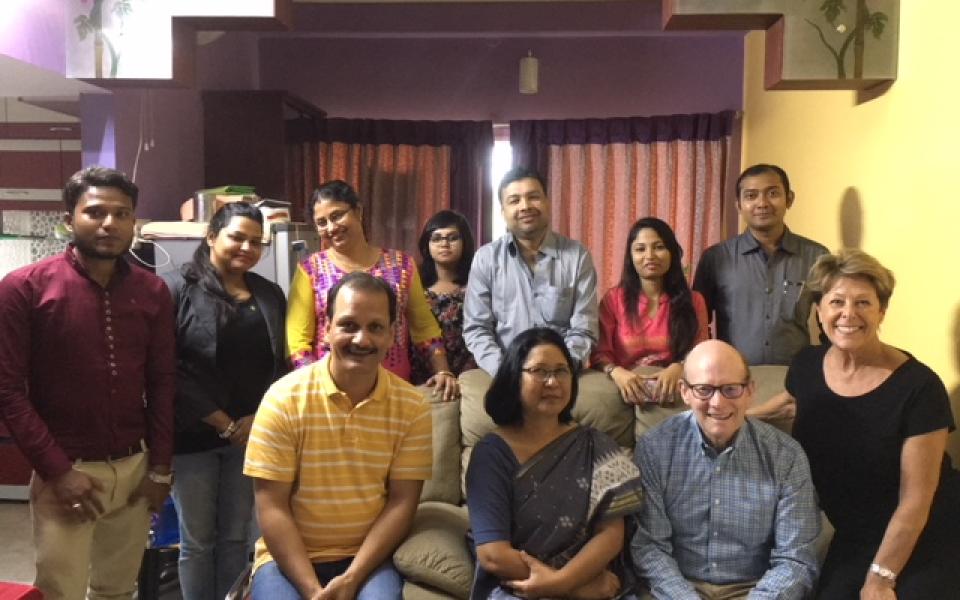 My wife, Connie, and I usually spend Christmas with our married son and daughter and our two granddaughters, but this year ended up being the in-laws' turn to be with both kids. So, we decided to do something totally different and use our Christmas vacation time to visit two of URI's active and very successful regions, so that I can more effectively explain to donors and prospects the work URI does from a firsthand point of view. We chose to visit URI's East India Regional Coordinator, Biswadeb Chakraborty, in Kolkata, West Bengal, and URI's South India Regional Coordinator, Abraham Karickam, in Karickam, Kerala, both of whom welcomed us into their homes and communities. What follows are some of our experiences during our visits.
---
Kolkata – December 20-23
At Haranagore Ramakrishna Mission Ashram and High School
We visited Haranagore Ramakrishna Mission Ashram and High School, a 2,000-student school for boys, grades 1 through 10, run by Hindu monks in a walled compound in Kolkata.
Palki Peace CC is a URI Cooperation Circle with leaders Abhirup Kahn and Samprit Dey, comprised of 15 members from Buddhist, Christian, Hindu and Muslim faiths. The group raised funds for and arranged for the installation of a solar system and a water purification system. With the system and first panel section installed, the CC is working to raise additional funds to add 3 more sections of solar panels. The completed solar system will provide for consistent power and will save the school a significant amount of money that will be redirected to increased student services. In a badly polluted Kolkata, having access at clean drinking water is an important benefit for the school community.
In working on the solar panel project together, the Cooperation Circle members have developed strong bonds of interfaith friendship.
Headmaster Sajal Maharaj expressed his appreciation to Paki Peace CC and to URI saying that without their assistance, the project would not have happened.
In working on this project together, the CC members have developed strong bonds of friendship and gained the satisfaction of helping the school and the students.
---
(Click the yellow arrows below to scroll through the photo slideshow.)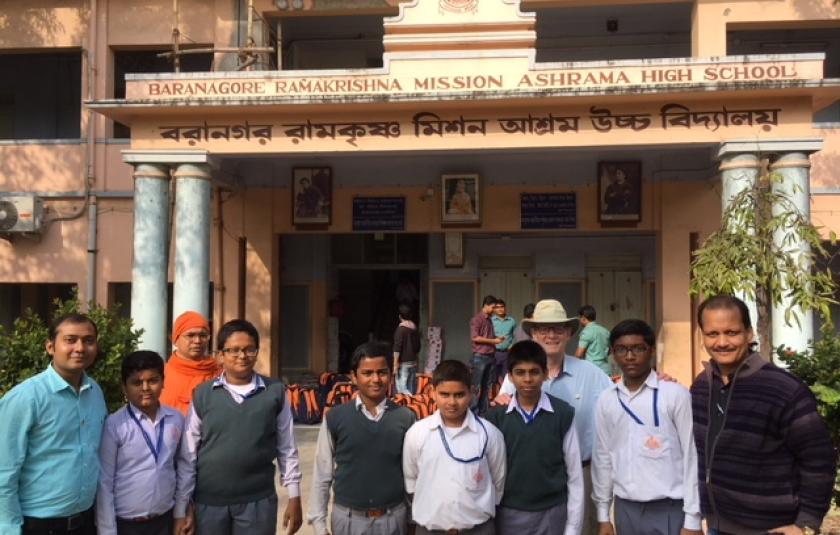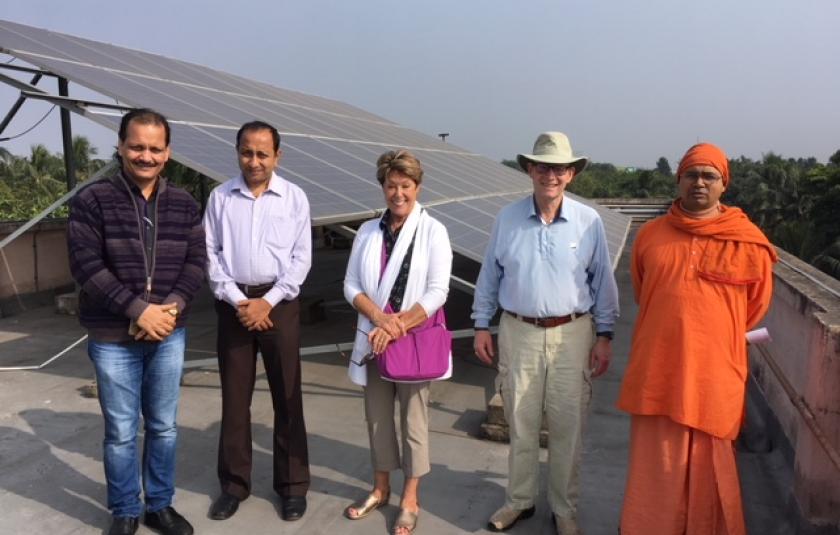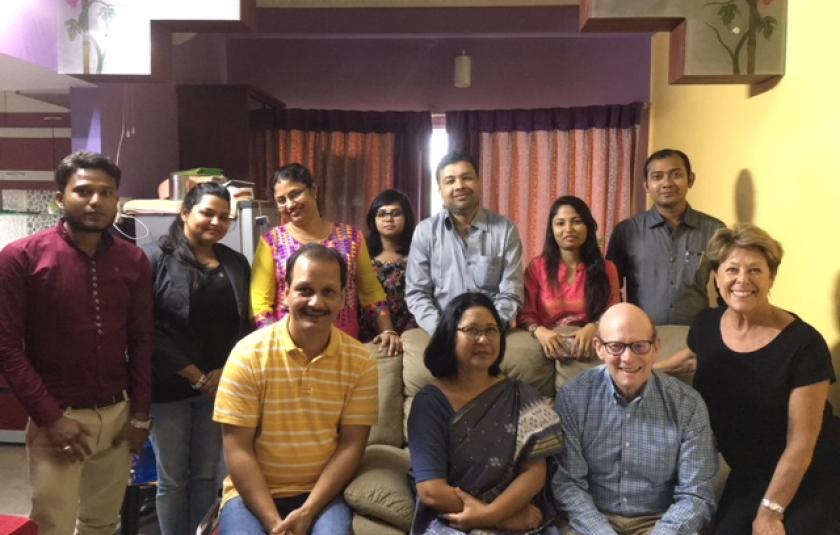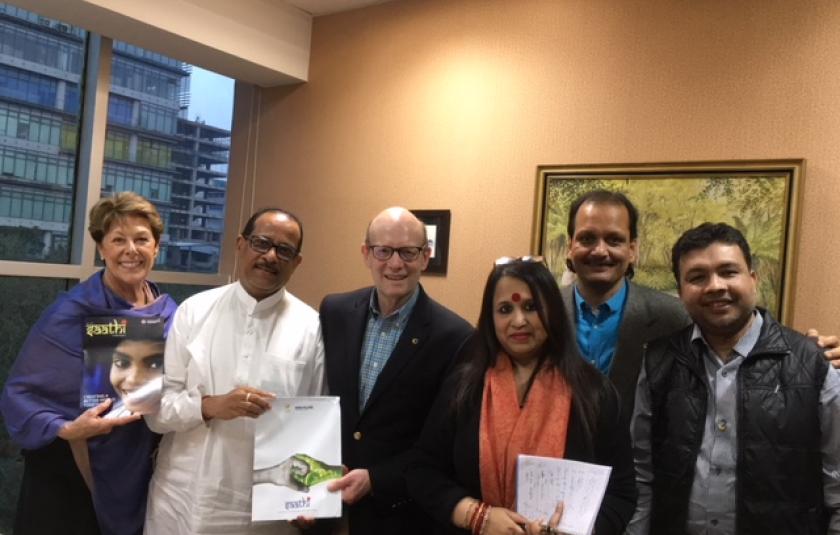 Meeting with URI East India Staff and Cooperation Circle Leaders
Biswadeb Chakraborty, URI India Regional Coordinator, invited Connie and me to meet some of his regional staff and several CC leaders at their Kolkata office which doubles as Biswadeb's home. Each staff member introduced himself/herself, his/her role at URI East India and how he/she became involved with URI.
I introduced myself and my role at URI and talked about how I became involved with URI. I emphasized that the role of the Global Support Office is to be a resource to the Regions and their CCs.
In broad-ranging and open discussion that followed, issues raised were: website translations and the CC application form where words may not be relevant or meaningful, particularly for tribal CCs; communication where tribal groups may not have access to computers or the internet; fundraising at the regional and CC level and URI Global's role; and others.
The formal part of the gathering was followed by lunch, exchange of gifts, and the distribution of URI logo-pins to all; and more informal discussion.
As an example of URI East India's important and challenging CC work, Shreyosi Biswas (of URI's Helping Hands CC) and others described their CC's efforts to reach out to the young people living on the street ("street children"), as they have for generations in too many cases, to the extent that it is a way of life. The CC volunteers are working to change that way of life by introducing the street children at even very early ages to education, sports, music, computers and technology, hoping that some of them can get off the street and find better lives.
As they may well be dependent upon the proceeds of the children's begging, the street children's own parents often impede these efforts. Additionally, the street children's leader – sometimes referred to as the "union boss", a peer or older child who gets his "stature" and "self-esteem" from being the leader – has no motivation to have anyone in his group be exposed to the potential for a life other than on the street.
Shreyosi said that they work to develop some sort of trusting relationship, visiting the children on the streets regularly, reading to them, playing sports with them, all in the hope that with lots of patience and persistence, over time they will be able to change some lives for the street children. And working on this very challenging and often heart-wrenching task, the CC members of 3-4 different religions develop deep and trusting friendships.
Shreyosi reported to me that on Christmas Eve, "We not only distributed more than 200 cakes to the poor people, but also shared with them the Joy of Christmas on the eve of the birth of Jesus Christ, the Prince of Peace!". See the joy on the face of the young girl in the photo below.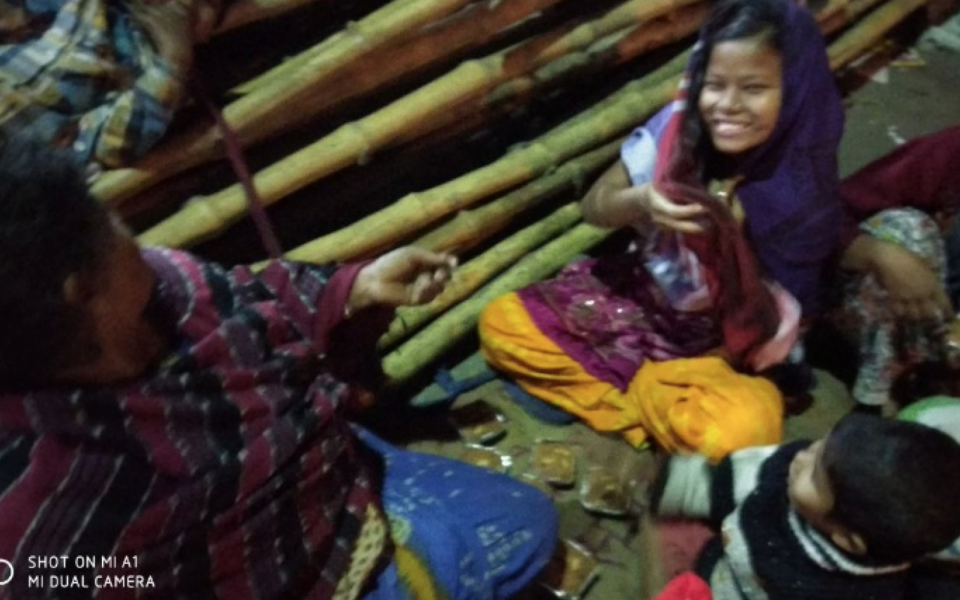 Meeting with India Power
Biswadeb Chakraborty, URI East India Regional Coordinator; Kaushik Chatterjee, URI East India Liaison Officer, and Finance and Database Manager; Connie and I met with Somesh Dasgupta, President of India Power; and Bonnya Bose, India Power Public Relations and Communications.
India Power has been a generous supporter of several URI East India Cooperation Circles. India Power's corporate social responsibility (CSR) target areas and those of URI are very much in sync, specifically: eradicating hunger, poverty and malnutrition; promoting preventive health care, sanitation, making available safe drinking water; promoting education; promoting gender equality and empowering women; and ensuring environmental sustainability.
Though Indian corporations are required to donate 2% of their profits to Indian not-for-profit entities or NGOs, because of corruption within some Indian NGOs, the corporations struggle to live up to that CSR mandate. On behalf of URI Global, I thanked President Dasgupta and Bonnya for their support and helped them better understand that URI India is part of a global organization. President Dasgupta indicated that, because URI India is part of the URI global network (with NGO status at the United Nations) and is undertaking important projects of interest to India Power, the company is thrilled to be supporting URI India. He expressed his appreciation for the relationship the URI India leadership has developed with the company and looks forward to broadening its support in the future.
That relationship is a model for what can be developed with corporate funding sources at the regional level with the support of URI Global.
In the very challenging Kolkata and East India environment, URI is making a difference.
Reflections in URI East India
Biswadeb is a dynamic leader who has gathered together a strong and growing group of enthusiastic staff and CC leaders who are dedicated to URI and passionate about its mission. Many of Biswadeb's team are working with URI part time and mostly with little or no compensation but would very much like to dedicate full time to URI's efforts. In the very challenging Kolkata and East India environment, URI is making a difference.
---
Read more reflections from this trip: