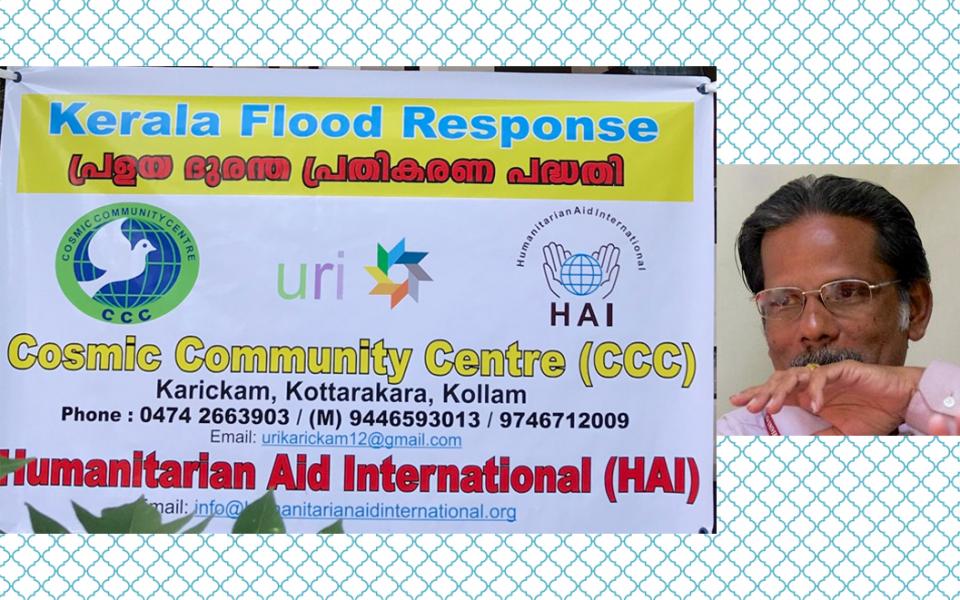 Building Community from Catastrophe
Catastrophes befall people in URI no matter where we live. Through the years, people in URI's global community have faced unspeakable violence, kidnappings, tsunamis, hurricanes, earthquakes, fires, landslides, drought, famine, endless terrors, and daily poverty and injustice. Through URI's communication circuits, we find ways to listen with compassion, lend a hand, donate, and offer prayers. We tell people, often whom we have never met, that we care about them. We use our ingenuity and generosity to help meet their needs. Abraham Karickam, Regional Coordinator, URI India South Zone and Sri Lanka, tells a story that inspires us to see how catastrophe also gives us an opportunity to build caring communities.
I have a story to tell; a story without parallel!
Kerala witnessed unexpected floods, the like of which had not occurred in 100 years. It was rain, rain for days and weeks. We were at a loss. Around 50 dams opened. Twelve out of 14 districts were affected. Only Trivandrum and Kollam (our District) were spared. More than half of the people in the State were marooned. All the destroyed rivers were reclaiming new pathways. It was a terrible warning from Mother Earth. All the man-made walls were thrown away. All the riverside flats and apartments were in real trouble. (In our craze for waterfront villas, no one listened to the cry of the rivers. Everyone was competing to build hotels and resorts.) And landslides came one after another. 
SOS calls from every corner spread like the flood waters. Rescue operations started with a few boats. Our police and fire forces jumped into the fray. A few helicopters came. Then the military was summoned, but they could reach only a few people who were on rooftops of three-story buildings. Members of the legislature cried out that tens of thousands were going to die.
Then a miracle happened. Seven hundred boats of fishermen from different Districts were brought to the affected areas in trucks. Three thousand fishermen who were familiar with facing terrible sea waves started to work straightaway. In two or three days, they saved the lives of 70,000 people. Now we call them "our own military in God's own country." They are our heroes today. 
Today we start our Onam festival. Usually it lasts ten days, but since thousands of our people are still in rehabilitation camps, Kerala people have given up Onam celebrations. All the fanatics who used to be fighting in the name of religions and creeds were temporarily housed in churches, temples and mosques. All were sharing the same food and sleeping on the same floor.
This was the beginning of a new era; an era of revelations and enlightenments. New Buddhas are being born. Even a catastrophe can teach us many good things. 
Abraham is a founding member of the Cosmic Community and The Karickam International School (both URI Cooperation Circles), President of the Interfaith Student's Movement of South India, a respected educator, member of the Mar Thoma Church, author, community organizer, peacebuilder and interfaith leader.
---
Read more posts in the Every Voice series, which presents thought-provoking quotes showing how people all over the world give voice to URI.