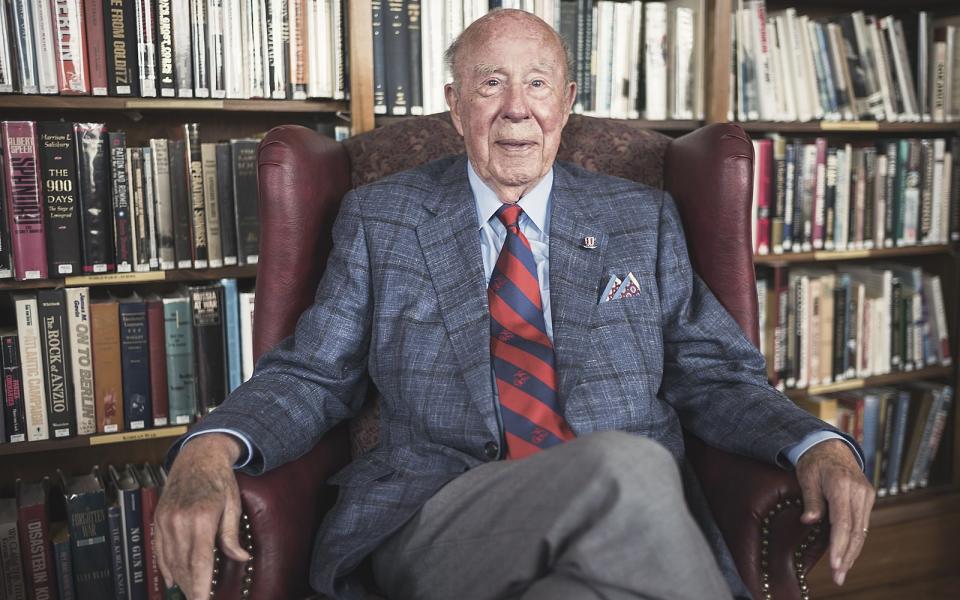 The following words come from The Rt. Rev. William E. Swing, URI Founder and President, on the death of Secretary of State George P. Shultz, a great friend and instrumental supporter of URI.
---
The United Religions Initiative (URI) mourns the loss of George Shultz and prays for eternal blessings on his soul.
At age 100, his death was not unexpected. Nevertheless, our family of many faiths feels stunned. George was our fearless champion and passionate advocate for many years. From the beginning, he would boldly tell world and national leaders that URI was one of the hopes of the world because it "identified real issues and did something practical about them."
On his 100th birthday in December, he presented the (URI) Voices Youth Award which is "In honor of the nuclear abolition legacy of Mikhail Gorbachev, USSR, and George P. Shultz, USA." Right to the end, he stepped up for URI.
George Shultz carried around so many worlds inside himself. Academia, business, military, diplomacy, and environment as well as the wisdom that comes from paying attention to the plight and fun of ordinary people.
We are grateful that he also carried around profound respect for religions of all stripes. He would slip into a Seder in the United States Embassy in Moscow. Or talk economics with a Pope in Rome. From his mother, he inherited twin Menorahs from New York neighbors. From his Quaker father, he learned to sit in a room with only a desk and with no telephone. "I was working from inside out." Personally, he would arrive at church early in order to study theology by reading the words of the hymns.
His wife, Charlotte, has been a Trustee of URI from the beginning. We all reach out to Charlotte – as well as all of his family and friends – in this time of grief and fond remembrance.
The Rt. Rev. William E. Swing
URI Founder and President
---
Messages from the global URI community: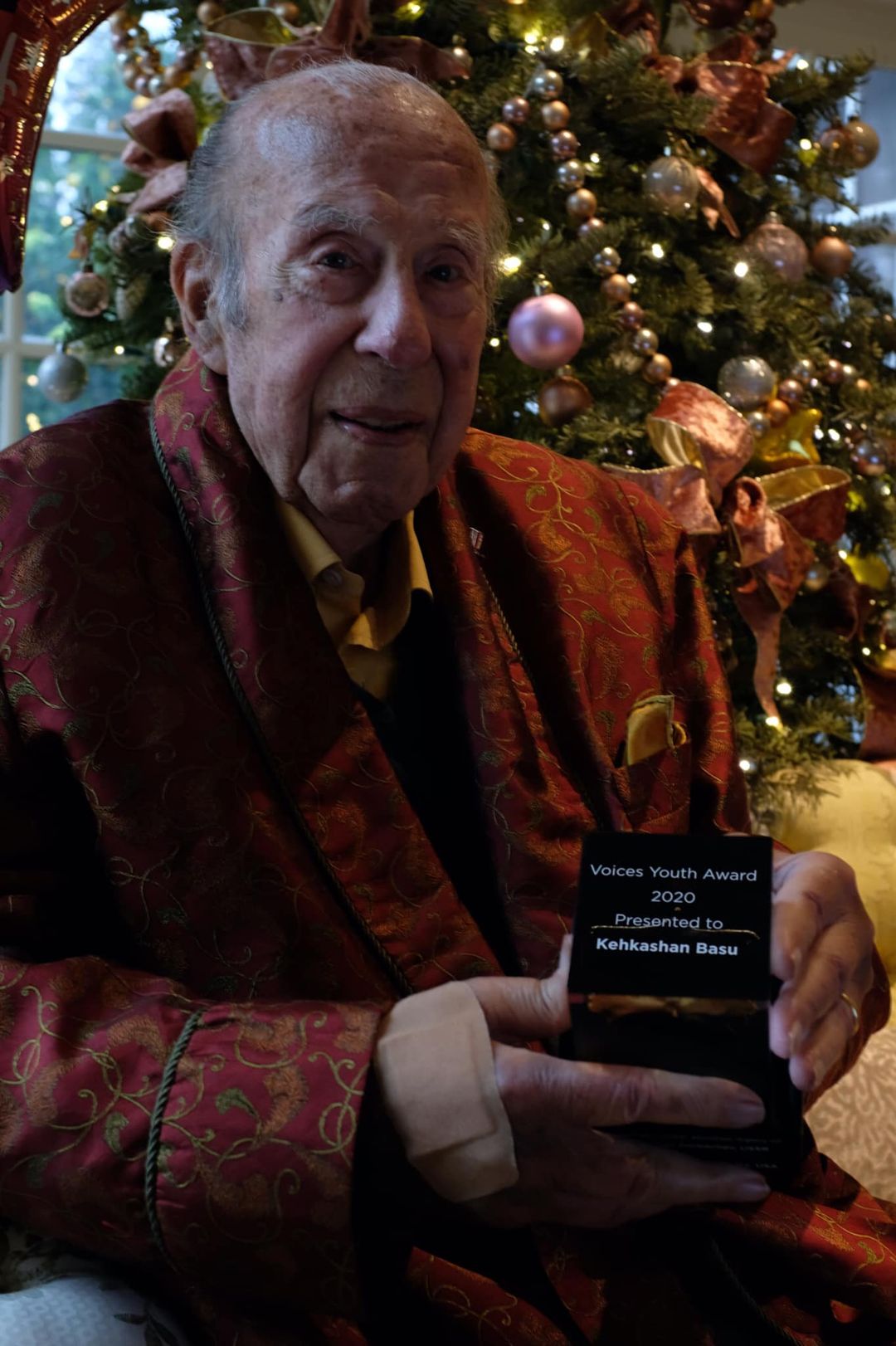 We are saddened to lose our founding member Secretary George P. Shultz. Secretary Shultz recently had his 100th birthday this past December 13th. We are grateful for his historic work on nuclear disarmament. Thank you, Secretary Shultz, for making our world safer. Our hearts go out to his wife Charlotte and his family. We are posting a recent photo of Secretary Shultz holding the first Annual Voices Youth Award given to Kehkashan Basu. May he rest in eternal peace. We will miss him.
- URI Cooperation Circle (member group) Voices for a World Free of Nuclear Weapons
---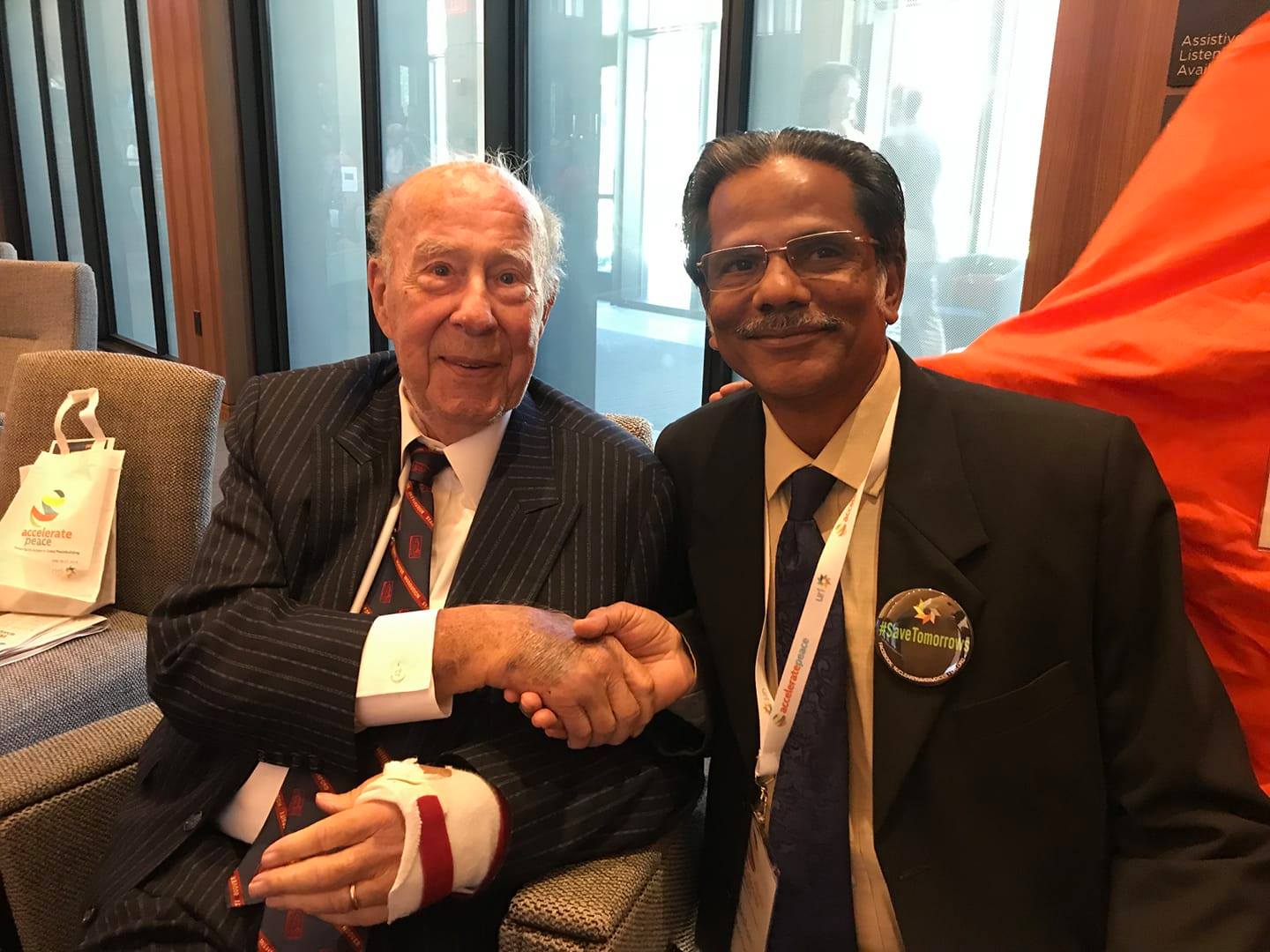 Another great soul departs. Former Secretary of State George Shultz bids adieu at the age of 100. He held three Cabinet ranks under President Reagan and was instrumental in signing disarmament agreements with President Gorbachev of Russia.
I had the privilege of being a member with him in our URI Cooperation Circle, "Voices for a World Free of Nuclear Weapons" from its inception. He was in the forefront of all peace initiatives and steered our "Accelerate Peace Conference" in Stanford University in 2019.
It is always painful to bid farewell to such worthy souls. Our heartfelt condolences and prayers.
- Abraham Karickam, URI Regional Coordinator for South India
---
I would like to add the below quote from the front page obituary in the Washington Post, many have perhaps seen it. This is from the meeting at Reykjavik, Iceland in 1986.
"During a break in the meeting, Secretary Of State George P. Shultz hastily crafted new language to keep alive some hope for agreement. "When talks resumed, Reagan took everything further than arms control had ever gone before. He proposed to Gorbachev to eliminate 'all explosive nuclear devices' including 'bombs, battlefield systems, cruise missiles, submarine weapons, intermediate-range systems, and so on'

'We could do all that, list all those weapons' replied Gorbachev.

'Then, let's do it', said Mr. Shultz.
For a brief moment, there was an agreement between the leaders of the USA and USSR to eliminate all nuclear weapons. As we all know, the deal fell apart before the end of the day in a dispute over the Strategic Defense Initiative and space weapons, with Reagan at the last moment taking the advice of his defense advisor over that of Secretary Shultz and Ambassador Nitze who wanted to accept the deal. But this moment is a testimonial to Secretary Shultz on how close he had brought America and the world to this long-sought goal.
-Thomas Graham, Jr., Founding Member of Voices for a World Free of Nuclear Weapons
---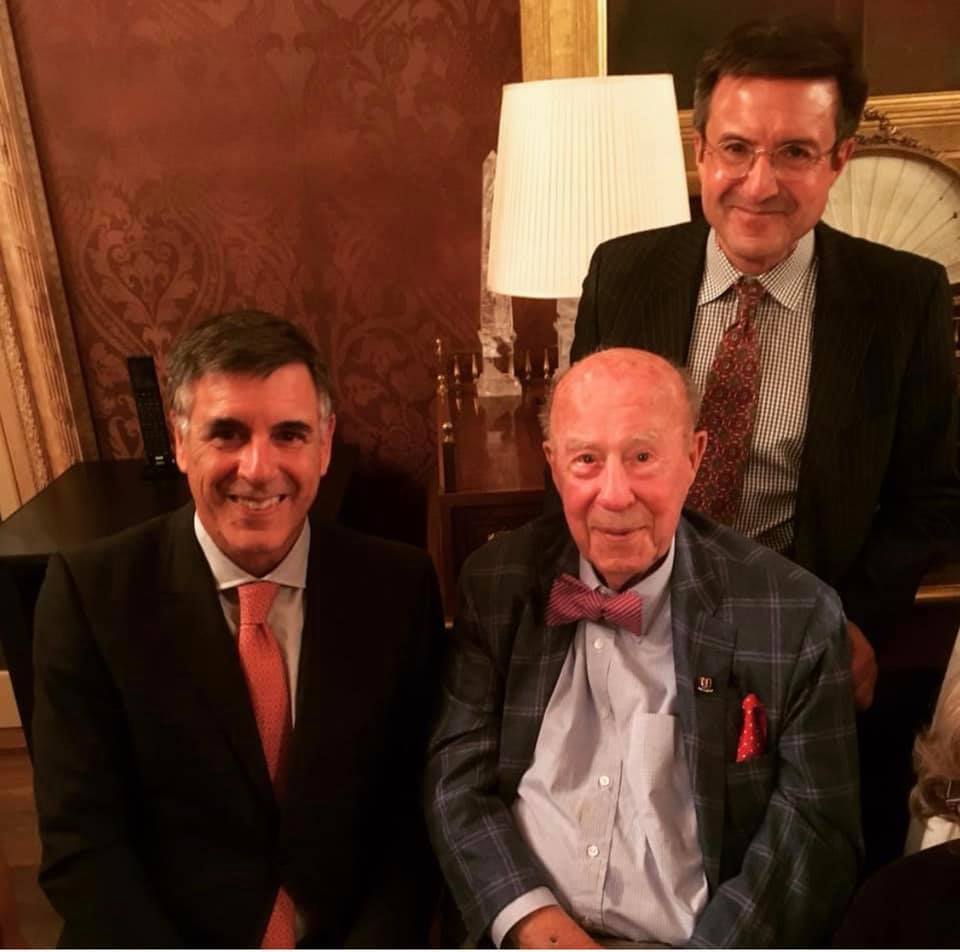 So sad to learn of the passing of former Secretary of State George Shultz. He was a gentleman and a statesman. Sending the deepest of sympathies to Charlotte and all in our City whose lives he touched.
- Michael G. Pappas, Executive Director San Francisco Interfaith Council (a URI member group)
---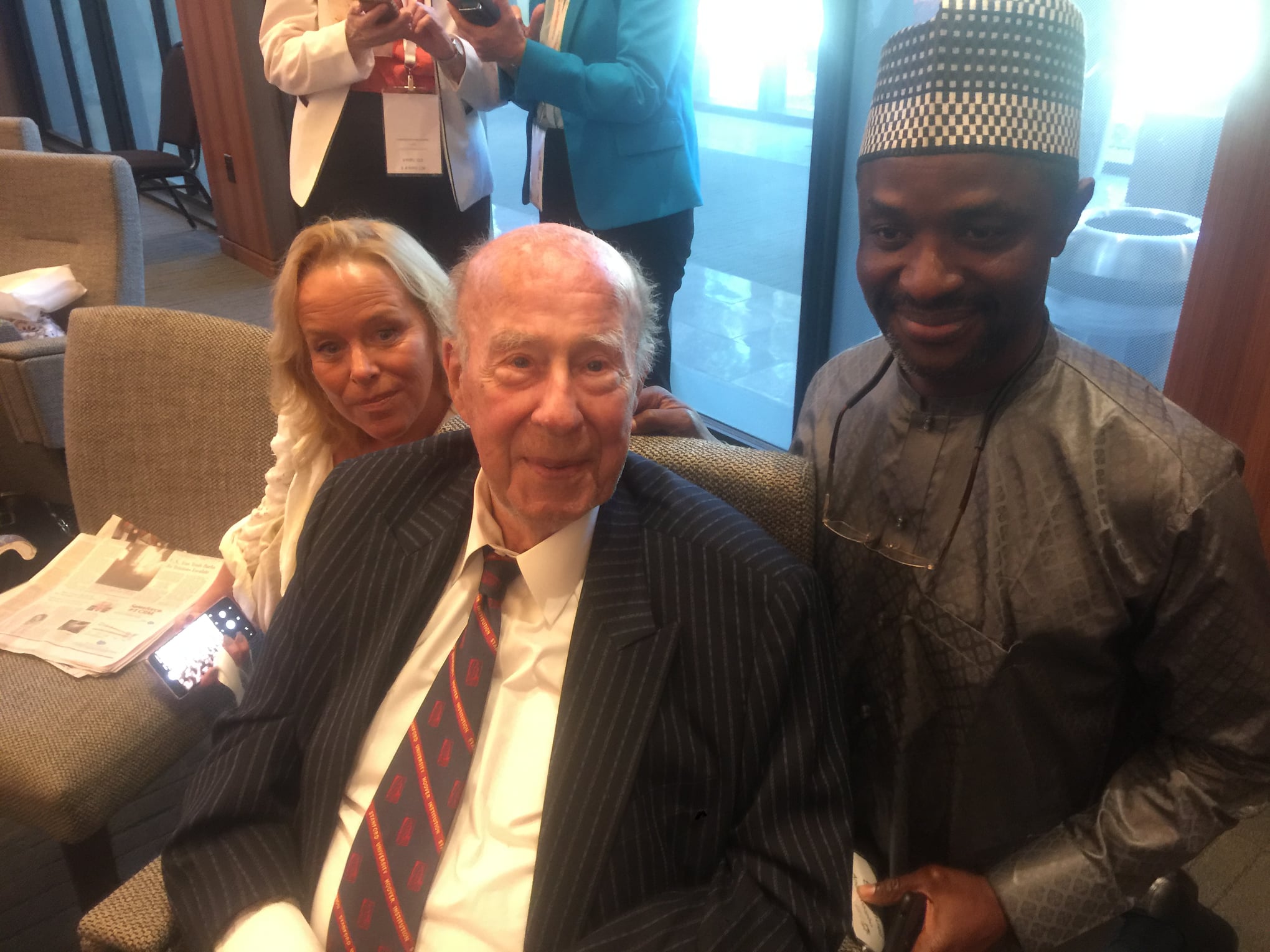 "He has returned home."
- Emmanuel Ivorgba, Regional Coordinator for URI Western Africa
---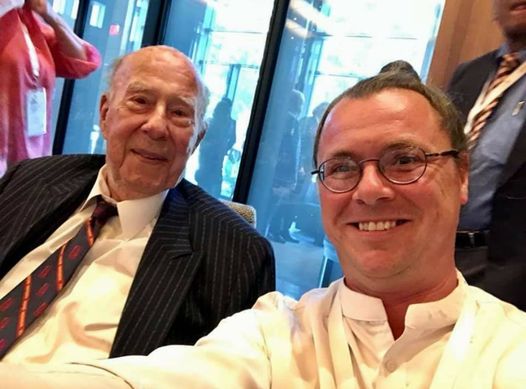 George Shultz with Patrick Horn, a member of Unity-and-Diversity World Council (a URI member group)
---
George Pratt Shultz, even after retirement from public office in 1989, remained a legend for many who lived for decades under the communist yoke in Central and Eastern Europe by shaping the global East-West foreign policy. Rest in peace!
- Fr. Petar Gramatikov, URI Global Council Trustee - Europe
---
I remembered the upright person I had the honor to meet in San Francisco in June 2019. God welcome him with affection in the kingdom of heaven.
I also thought about how our Bishop Swing and all members from Voices for a World Free of Nuclear Weapons must be sad.
May peace prevail in all hearts.
- Salette Aquino, URI Global Council member - Latin America and the Caribbean
---
My deep condolences. We hold former Secretary of State George P. Shultz in our mind for all time. I know very well the support George has given to URI and I was personally inspired after reading the Books of Memory of the King of Morocco Hassan II, written by the King of Morocco Hassan II. I have a great short story and photo about meeting with Shultz and Hassan II, working in Morocco with US support for a peace agreement in the Middle East and mediation of Morocco and the US with Palestine, Egypt and Jordan of the MENA conflict. I respect Mr. Shultz a lot. Our last meeting in the Hoover Building at Stanford University is a story that will be in my mind the rest of my life, to meet with such a modest and inspiring person like Shultz and URI's father Bill Swing. Thanks, Bishop Bill Swing, for creating an opportunity for us to meet such a big person as Shultz.
- Naoufal El Hammoumi, URI Global Council member - Middle East and North Africa
---
Heartfelt condolences and Prayers. May his soul rest in Peace.
- Issac S. Thomas, URI Global Council member - Asia
---
I am sorry to hear about the great loss of George Shultz. He is an unforgettable global visionary leader. The world will remember him for his great efforts in making our world a better place. His remarkable efforts in ending what was so-called the Cold War peacefully and his fight for a world free of nuclear weapons. Not to mention his generous support to URI.
My condolences to his family and friends. May his soul rest in peace: "When they (the Believers) are entrusted with something, they do not betray that trust, but they fulfill it, and when they make a promise or make a pledge, they are true to their word."
"Your talent is God's gift to you. What you do with it is your gift back to God."  Leo Buscaglia
- Mamoun Khreisat, URI Regional Coordinator - Middle East and North Africa
---
It is with great sadness. Here is my favorite [quote from George Shultz]: In early December 2020, right before his centennial birthday, Shultz wrote an opinion piece for the Washington Post, titled "The 10 most important things I've learned about trust over my 100 years."
He wrote: "Dec. 13 marks my turning 100 years young. I've learned much over that time, but looking back, I'm struck that there is one lesson I learned early and then relearned over and over: Trust is the coin of the realm. When trust was in the room, whatever room that was – the family room, the schoolroom, the locker room, the office room, the government room or the military room – good things happened. When trust was not in the room, good things did not happen. Everything else is details."
I have a lot more to learn from him.
- Sam Chan, URI supporter and Finance Committee member
---
May George Pratt Shultz already rest in peace in the Glory of God with our gratitude for all his support to URI,
- Enoé Texier, Regional Coordinator for URI-Latin America and the Caribbean