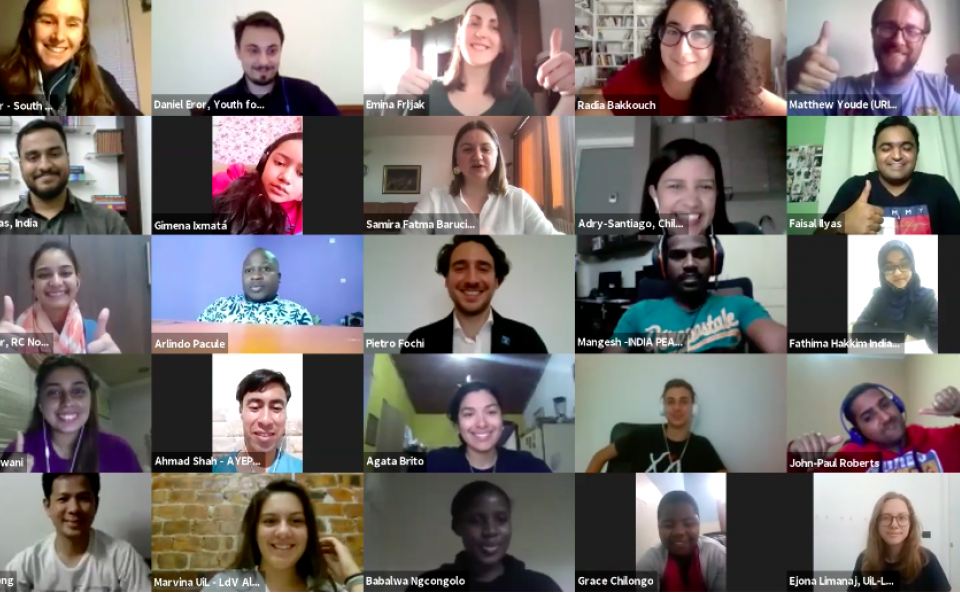 What is a URI Youth Connection Cafe?
A URI Youth Connection Cafe is a virtual meeting place where young people across URI can meet each other, network, share projects and discuss relevant issues from our different contexts. 
Why should I join? 
Join a conversation once a month between young people around the world
Meet like-minded peacebuilders and interfaith activists in URI
Shape the conversation with your questions, stories and experiences
Find global solidarity in discussing issues relevant to your work
Who is it for?
All young people (under the age of 35) who are part of URI CCs are welcome to join and participate! 
Why is it for those under the age of 35 only? 
While recognising age is a social construct, we live in a world where age holds power, and young people experience discrimination in different forms, such as being dismissed as not knowing enough, or tokenised, or misrepresented. The Youth Connection Cafes have been intentionally designed to be a space solely for those under the age of 35 who identify as youth. This has come at the request of young people across URI to have it be a place where they can develop trust and respect amongst themselves, and build up a support system that feeds into the broader URI network. 
In URI we are proud of the age equity and diversity we have represented across all aspects of URI and we strongly promote intergenerational dialogue and learning at every level. There are therefore many other spaces in URI where intergenerational dialogue occurs. With this in mind, we respectfully ask that this boundary of the Youth Connection Cafes as being for youth only, be respected. 
Great, can I help organise these? 
Absolutely! Each Youth Connection Cafe is organised and led as a collaborative initiative. If you or your CC would be interested in being involved in the planning and running of the next Youth Connection Cafe, please email [email protected] 
When is the next one? 
Stay tuned for the upcoming announcement of our January 2022 YCC!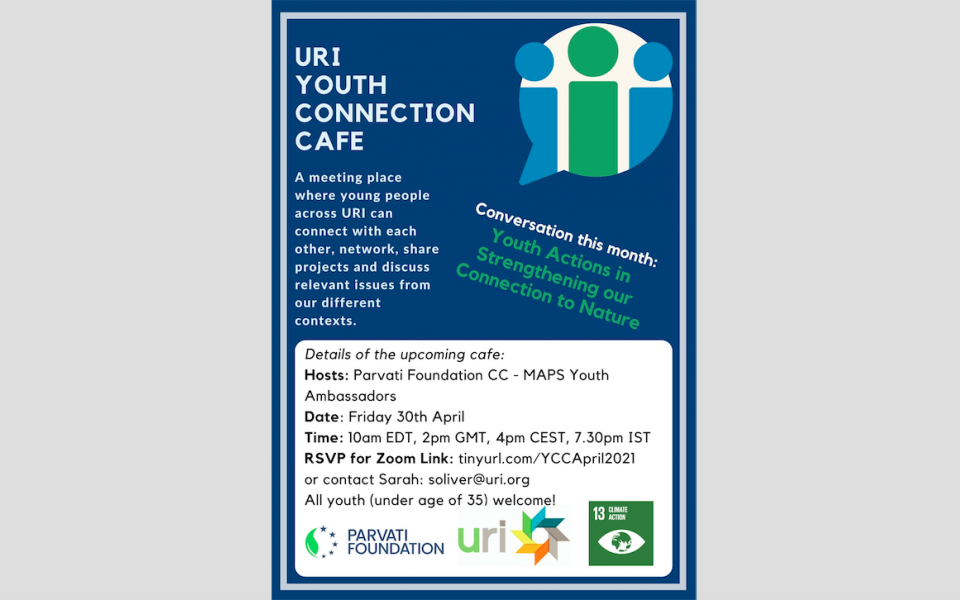 List of Previous Youth Connection Cafes:
Nov 2021 - Learnings and Reflections from the G20 Interfaith Forum hosted by the URI delegation to the G20 Interfaith Forum, Italy 2021. 
Oct 2021 - Exploring and Exchanging Cultures cohosted by Coexister (France) and AFFCAD (Uganda)
Aug 2021 - Coping with Stress and Global Challenges hosted by the Global Youth CC
May 2021 -  "Living Together in Peace - Stories of Hope and Transformation from Youth",  with Youth for Peace CC and AYEPO CC.  
April 2021 - Youth Actions in Strengthening our Connection to Nature hosted for Earth Day by Parvati Foundation CC. 
February 2021 - Interfaith Dialogue with Pakigdait Inc. CC from the Philippines
January 2021 - Youth Visions for Peace hosted by One Billion Youth for Peace. Click to watch the recording of the speakers. 
September 2020 - Race, Colour and the Interfaith Movement (in collaboration with URI North America) - see the discussion guide for this session (Discussion Guide In English) or (Discussion Guide In Spanish). 
August 2020 - International Youth Day: The Role of Young People in Building and Sustaining Peaceful, Just and Inclusive Societies (led by Youth for Peace, Bosnia & Herzegovina) 
May 2020 - Youth Responses to COVID-19 and Global Idols (hosted by the Global Youth Movement CC and the Global Youth CC)
March 2020 - Building Global Solidarity